Antonio Brown, the Tampa Bay Buccaneers' wide receiver, has continued to criticize the team following his strange departure from Sunday's game. Brown posted text messages that call out Tom Brady, Bruce Arians, and Brady's trainer Alex Guerrero on Thursday.
The team apparently determined that those messages were the deciding factor in Brown's release on Thursday.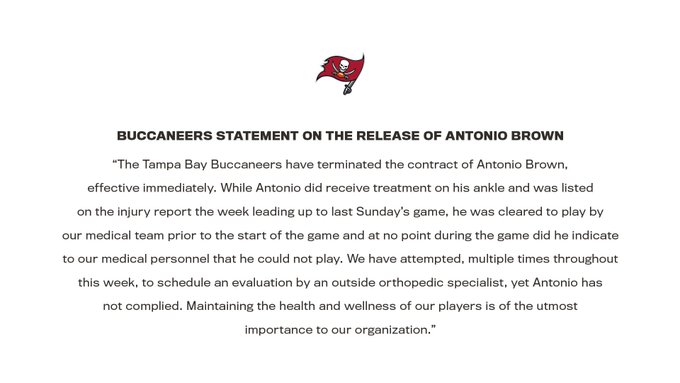 The Buccaneers stated that they attempted to convince Brown to undergo an evaluation of his injured ankle, but he refused.
Brown shared a number of text exchanges with followers on Instagram and Twitter. Guerrero was accused of charging Brown $100,000 and then refusing to work with him. Brown included a message directed at Brady in his IG story.
The texts, which Brown asserted were exchanged between him and Guerrero, paint a different picture. Brown requested $50,000 from Guerrero because the two will no longer be working together. Guerrero responded that he did understand and was willing to send Brown the funds. Brown's original message included his bank account's routing and account numbers. Brown subsequently deleted the message.
The Bucs officially RELEASE Antonio Brown
Source: Yahoo